Skip to Content
Our Featured Security Products
At Al Scott Lock & Safe Ltd. our goal is to help you stay one step ahead of the thieves. In today's world, that isn't always easy, so that is why we are always on the lookout for new security products that offer our clients in Vancouver the highest level of security. So whether your security needs are residential, commercial or institutional, you can trust us to carry the newest products that offer the best security possible for your property.
We Carry Featured Products From:
Medeco: A Worldwide Leader in Security
Medeco designed its high security product line with pick and drill resistant features that thwart the tools thieves use most often to gain entry. When a thief sees Medeco locks on your interior or exterior doors, file cabinets, gates, and other secure areas, he will likely decide it isn't worth the risk. Medeco's patented key control systems make it virtually impossible for someone to get a copy of your keys without your permission.
This low-cost solution protects against potential liability for your facility. Medeco has pioneered extremely large Master Key systems that are available through our exclusive use of angled cuts on our keys and slider combinations. With millions of combinations, Medeco can accommodate even the largest installations.
Medeco Hybrid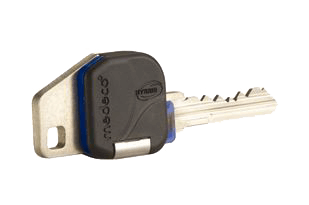 Tie your security solution together with the Hybrid. The Medeco Hybrid key combines the security of traditional Medeco locking systems, with the flexibility of an EAC all in one convenient package. The high-security mechanical blade ensures a high level of security on doors that may not warrant the monitoring and flexibility of an EAC system, but still require the pick resistance, key control, as well as the master keying capabilities Medeco locks provide.
The proximity chip in the head of the key works with most existing access control systems and allows the user to carry only one credential for both their EAC and non-EAC doors. Complementing your EAC system with Medeco security eliminates EAC audit trail bypass by picking, bumping, or copied keys resulting in unauthorized key holders.
Medeco Product Literature
Assa Abloy: Professional Solutions for Ultimate High-Security Needs
The world is challenged by mounting security threats in every conceivable sector. Our mission is to meet these challenges and to provide complete locking solutions for the 21st century's marketplace. ABLOY Protec2 is one more milestone in that mission. ABLOY locks and cylinders are chosen worldwide for highly sensitive applications. They are recognized as the world's premium high-security locking systems, used extensively by private, commercial, institutional, and municipal users who demand the ultimate in high security.
Security solutions may vary at different premises according to their size and type of business. But the need for high-security system solutions is universal. As an example, the world is dependent on water, electricity, and communications networks.
Security in these utilities is essential for our well-being and therefore their protection is vital. A growing number of applications depend upon the ability to deliver their services 24/7. Any break or interruption to their service caused by vandalism or physical attack can prove devastating for the security, health, financial costs, and reputation of a facility or an enterprise.
Combining safety, security, and convenience is a challenging task so the quality, design, and functionality of the locking system must meet those challenges. Security threats are not static, nor are the solutions. ABLOY has extensive experience and expertise in the field of high security locking systems and we can offer you highly secure and customized solutions.
Secure in Every Way
In an ABLOY Protec2 locking system, different products can be keyed into the same master key system and thus all products can be operated with just a single key. This simplifies your locking system and key management. The range is wide, there are 1.97 billion different key combinations providing the possibility to create extensive Master Key systems that fulfil your exact specifications. ABLOY Protec2 is durable and long-lasting thanks to its superior design and precision manufacturing.
The unique and patented rotating disc technology provides smooth and reliable functionality also in extreme environments. ABLOY® Protec2 can be integrated with electromechanical CLIQ-technology. This electromechanical system is intelligent and highly customizable. It enables flexible and secure access management, including time functions, into your daily operations. And in case of a lost or stolen key it can easily be electronically removed. Both the cylinders and keys audit the trail of use. CLIQ makes things click. It lifts your locking security to a whole new level.
Schlage
Schlage's role in the evolution of door hardware and security has been substantial. The company's roots date back to the 1920's, when Mr. Schlage opened his first lock shop. Over the next 90-plus years, the company would introduce a family of quality products for residential, commercial and industrial applications. In 2013, Schlage joined the Allegion family of brands, North America's #1 manufacturer of security and safety products. Today, over 40 million homeowners trust Schlage to keep their property safe.
AD Series
The AD Series of electronic locks from Schlage was designed to be flexible, adaptable and scalable—perfect for meeting today's security needs while ensuring it can evolve as needs change in the future. Ideal for classrooms, apartments, offices, or anywhere a little extra security is required.
CO-100
The CO-100 standalone lock offers electronic access control without the cost or complexity of a networked system. Plus, it's manually programmable, giving you the freedom to assign unique 3-6 digit to different users, thus minimizing the number of mechanical keys to be issued.
L Series
When it comes to commercial locks, nothing is tougher than the Schlage's L Series. Designed to stand up to regular use and abuse while delivering seamless performance, this series of heavy-duty mortise locks get the job done day in and day out in a variety of settings.
Visit Al Scott Lock & Safe Ltd. in the Lower Mainland
3 convenient locations in Vancouver, Richmond, and Langley